Fire Prevention
Durham Highway is more than just a resource in responding to emergencies. Our department has an active fire prevention program to stop fires and other emergencies from happening. From school and station visits, birthday parties, free smoke detectors, and assisting you in developing home escape plans Durham Highway is here to help. Call us today for more information on any of these or other programs.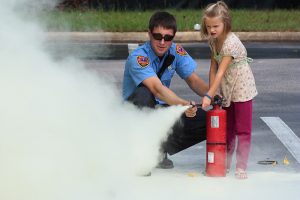 Public Safety Day
For over 20 years Durham Highway has held an annual Public Safety Day. Each September, we kick off the fire education season with interactive displays and events at Leesville High School. Come see fire trucks, live demonstrations, and grab a hot dog with us.
Safe Exchange
Durham Highway now has a safe exchange zone which is monitored 24 hours a day. Located at our Station 1, this service provides our community with a safe place to conduct internet transactions.
Fourth of July
Each Fourth of July Durham Highway participates in various neighborhood parades and events. To schedule yours call our station at 919-676-4187 any time in June.
Open House
Just in time for the holidays each December Durham Highway hosts and annual open house with cookies, hot chocolate, and the opportunity to donate to Toys for Tots. During this time, we also have a special visit from Santa who arrives to hear wish-lists from kids in our community and hand out candy canes. Come back for more information on dates and times of this event.
Santa Ride
This brand-new event started in 2020 brings the Big Man himself right to you! Join us in early December as Santa boards one of our firetrucks and takes a ride throughout the district! We post a map beforehand of the route and you are sure to hear the sirens coming. We also use this event to collect toys for our annual Toys for Tots drive